Lesedauer
2
Minuten
… was created on a balmy summer evening in Heiligenhafen. We met friends I knew from old days. Anke was supposed to get to know her, so we spontaneously decided to have a weekend at the baltic sea. David and Kerstin came with their self-made VW Crafter, we slept in a nice little hotel. In the morning we met on the pitch and saw him for the first time… the van called "Der Dicke". David proudly showed us his expansion. We were thrilled. Later in the afternoon the sentence: "I want to sell the bus, because I want to expand a new one…" . A look between me and Anke and the thoughts took their course…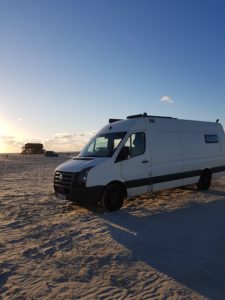 It is 2 months since we met friends after a long time, actually for a time together on the Baltic Sea, by the water, what good food, chatting and getting up to date again. At the end of the day, we were there to buy the VW Crafter they had just used until their new van is there.
BÄM! This suddenly opened our mind, a nerve was hit and in the coming weeks we assured ourselves that their offer was really serious and then carried the desire for a sabbatical into the job.
Now it was time to meet friends and van again. On the Adventure Northside on Gut Basthorst in the immediate vicinity of Hamburg. Now we wanted to take a close look, ask questions, sit behind the wheel etc.